Training, Education and Safety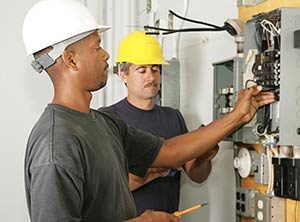 O.H. Burg is committed to maintaining a safe, knowledgeable staff through extensive training. All of our electricians are journeymen or master electricians and follow our safety training and apprenticeship programs.
Training
We base our training and safety program on the Massachusetts State Government site. We strongly believe the best way to make sure our employees are the best they can be is by working with some of the best out there. Our Master Electricians help their apprentices not only learn the basics of safe electrical work but also how to effectively maintain their level of expertise as the industry continues to get more and more technologically complicated.
Ongoing – Continuing Education
O.H. Burg has the highest regard for safety and training. All of our employees are given DOT Medial exams and must maintain OSHA 10 standards. We have weekly "Toolbox Talks" to help empower our employees with a venue to address concerns. Above all else, we maintain an extremely rigorous safety program that is monitored and maintained through out the company.
In addition we offer:
Aerial Lift – Personnel Operator, Fall Protection, Suspension Trauma
NFPA 70E Arc Flash Training
All New England State Apprenticeship Programs