Route Scheduled Services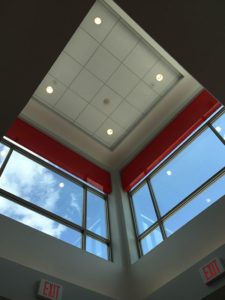 Regular scheduled maintenance is necessary for lighting systems to work at peak performance. Our customers who opt for route scheduled service receive thorough routine inspections of interior and exterior lighting, emergency/exit lighting and signage.  If necessary, repairs are completed on site by one of our licensed electricians.
Exterior Lighting / Signage – Bucket Truck Service
We specialize in exterior lighting design, installation and maintenance.  Whether your property has parking lot lights, canopy lights, wall packs, security lights, pylon or signage lighting, O.H. Burg will perform visual inspections and complete removal and restoration of your system.
Wherever your business is we can help with:
Underground wiring tracing
Full Switchgear / automation control
Utility Coordination / Service Upgrades Transformer Installation
New Equipment Installations
Complete Electrical Build-Outs
Power Circuit Faults
Control Equipment Malfunctions
Main Feeder Power
Utility Coordination
Florescent lamps contain mercury and need to be disposed of properly.  Upon completion of service, O.H. Burg employees will safely remove all inoperative fluorescent lights that contain mercury and dispose properly offsite.