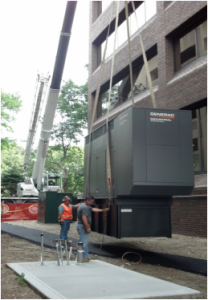 Energy Management is integral to maximizing the electrical efficiency of any business. O.H. Burg realizes that power outages and energy failures cost your business money.
Losing Power = Losing Money
Emergency Power Management is like an insurance policy for your business. It keeps your business running when others are down for the count.
We can provide a full range of solutions ranging from emergency lighting to permanent generators to smart electrical solutions to help keep both your customers and employees safe in any circumstance.
We offer both permanent and temporary generator solutions for any size business.
We'll provide the most efficient cost effective solution to fit your needs.  Call us today to discuss how we can help your business save money.